Roger Wilco (software)
Roger Wilco (software)
Roger Wilco is one of the first voice-over-IP client programs designed primarily for use with online multiplayer video games. [1] Roger Wilco enabled online gamers to talk to one another through a computer headset or other audio input device instead of typing messages to each other. Within a year of the software's introduction, over 2 million online video gamers were using the application.
Contents
Development and release
See also
References
Further reading
External links
Roger and Wilco are procedure words which, in radiophone communication, mean «I understood your message and I will comply».
Development and release
Roger Wilco was developed by a US startup company called Resounding Technology. Three of the company's four founders were roommates when they were undergraduate students at Princeton University: Adam Frankl, Tony Lovell, and Henri de Marcellus. [2] : 14 David Lewis, who led marketing and business development, was based in Silicon Valley and was responsible for growing the Roger Wilco community and managed partnerships with video game publishers who bundled Roger Wilco with their games. Plantronics, PNY, and other game peripheral manufacturers also bundled Roger Wilco with their products.
The company began publishing pre-release versions of the software in the autumn of 1998; [2] : 16 the first general availability release, Roger Wilco Mark I, followed in May 1999. [3] The company distributed both the client and server as freeware. The server software, Roger Wilco Base Station, was developed for Linux, FreeBSD, Windows 9x, and Windows NT. [3] Development of a client for Mac OS never progressed beyond the alpha phase. [4]
David Lewis demonstrated the product's server-less voice capabilities to Mpath Interactive, a startup company in Silicon Valley, who went on to acquire Resounding Technology based on their proprietary peer-to-peer voice technology. The company IPO'd soon after and renamed it to HearMe, Inc. [5]
GameSpy published the final version of the Roger Wilco client for Windows on July 8, 2003. [7] That year, a vice president of consumer products at GameSpy Industries told The Boston Globe that Roger Wilco had about 5 million users. [1]
See also
Comparison of VoIP software
Mumble
TeamSpeak
Ventrilo
Related Research Articles
Helix DNA is a project to produce computer software that can play audio and video media in various formats, aid in producing such media, and serve them over a network. It is intended as a largely free and open-source digital media framework that runs on numerous operating systems and processors and was started by RealNetworks which contributed much of the code. The Helix Community is an open collaborative effort to develop and extend the Helix DNA platform.
QuakeWorld is an update to id Software's seminal multiplayer deathmatch game, Quake, that enhances the game's multiplayer features to allow people with dial-up modems to achieve greatly improved responsiveness when playing on Internet game servers. Modern broadband connections such as cable and DSL can use the QW network handling and game physics as well. Official id Software development stopped with the test release of QuakeWorld 2.33 on December 21, 1998. The last official stable release was 2.30. QuakeWorld has been described by IGN as the first popular online first-person shooter.
Quake 4 is a military science fiction first-person shooter video game, the fourth title in the Quake series . The game was developed by Raven Software and published by Activision. Raven Software collaborated with id Software, the creators and developers of preceding Quake games. id Software supervised the development of the game as well as providing the id Tech 4 engine upon which it was built. Quake 4 went gold in early October 2005 and was released on October 18, 2005 for Microsoft Windows and later for Linux and OS X, as well as being a launch title for the Xbox 360. A special DVD Collectors Edition was released, including promotional material and the game Quake II with its expansions, The Reckoning and Ground Zero. The Xbox 360 version of Quake 4 is based on the Special Collectors Edition, and includes Quake II. On August 4, 2011, the game was made available through Steam.
Roger Wilco may refer to:
DirectPlay is part of Microsoft's DirectX API. It is a network communication library intended for computer game development, although it can be used for other purposes.
Havok is a middleware software suite developed by the Irish company Havok. Havok provides a physics engine component and related functions to video games.
GameSpy was a provider of online multiplayer and matchmaking middleware for video games. The company originated from a Quake fan site founded by Mark Surfas in 1996; after the release of a multiplayer server browser for the game, QSpy, Surfas licensed the software under the GameSpy brand to other video game publishers through a newly established company, GameSpy Industries, which also incorporated his Planet Network of video game news and information websites, and GameSpy.com.
TeamSpeak is a proprietary voice-over-Internet Protocol (VoIP) application for audio communication between users on a chat channel, much like a telephone conference call. Users typically use headphones with a microphone. The client software connects to a TeamSpeak server of the user's choice, from which the user may join chat channels.
SAP Business One is business management software (ERP) designed for small and medium-sized enterprises, sold by the German company SAP SE. As an ERP solution, it aims to automate key business functions in financials, operations, and human resources.
Voice chat is telecommunication via voice over IP technologies—especially when those technologies are used among players in multiplayer online games.
A rich web application is a web application that has many of the characteristics of desktop application software. The concept is closely related to a single-page application, and may allow the user interactive features such as drag and drop, background menu, WYSIWYG editing, etc. HTML5 is a current standard for delivering rich web applications, supported by all major browsers.
Multi Theft Auto (MTA) is a multiplayer modification for the Microsoft Windows version of Rockstar North games Grand Theft Auto III, Grand Theft Auto: Vice City and Grand Theft Auto: San Andreas that adds online multiplayer functionality. For Grand Theft Auto: San Andreas, the mod also serves as a derivative engine to Rockstar's interpretation of RenderWare.
Ventrilo is a proprietary VoIP software that includes text chat.
The Speech Application Programming Interface or SAPI is an API developed by Microsoft to allow the use of speech recognition and speech synthesis within Windows applications. To date, a number of versions of the API have been released, which have shipped either as part of a Speech SDK or as part of the Windows OS itself. Applications that use SAPI include Microsoft Office, Microsoft Agent and Microsoft Speech Server.
Mplayer, referred to as Mplayer.com by 1998, was a free online PC gaming service and community that operated from late 1996 until early 2001. The service at its peak was host to a community of more than 20 million visitors each month and offered more than 100 games. Some of the more popular titles available were action games like Quake, Command & Conquer, and Rogue Spear, as well as classic card and board for more casual gamers. Servers and matchmaking was provided through a proprietary client. Initially, the service was subscription-based, but by early 1997, they became the first major multiplayer community to offer games to be played online through their network for free. This was done by relying on advertisement-based revenues.
Massive Incorporated was an advertising company that provided software and services to dynamically host advertisements within video games. Massive Incorporated was purchased by Microsoft in May 2006 for approximately $200 million to $400 million.
The Dial-up Wide-Area Network Game Operation, better known by the acronym DWANGO, was an early online gaming service based in the United States. Launched in 1994, it was originally known for its compatibility with Doom, for which it functioned as a matchmaking service for online multiplayer. The service also supported various other titles, including other id Software games such as Doom II and Heretic as well as titles from other companies like Duke Nukem 3D, Blood, and Shadow Warrior from 3D Realms.
Games for Windows is a discontinued brand owned by Microsoft and introduced in 2006 to coincide with the release of the Windows Vista operating system. The brand itself represents a standardized technical certification program and online service for Windows games, bringing a measure of regulation to the PC game market in much the same way that console manufacturers regulate their platforms. The branding program was open to both first-party and third-party publishers.
Mechwarrior: Living Legends is a fan-created multiplayer mod of Crysis, based in the BattleTech universe, and using CryEngine 2 as its engine; it is one of the few mods based on the BattleTech universe to have been sanctioned by Microsoft—who currently owns the rights to the Mechwarrior video-game franchise—and additionally received pre-SDK support and sanctioning directly from Crytek, producers of the games' engine. On December 26, 2009, an open beta was released via BitTorrent and other distribution methods. Because the project changes the play-style and feel of the game it is originally based on so completely as to be unrecognizable in comparison, it is billed as a «full-conversion» mod, since little to no trace of the original game's art or play-style exists any longer within MW:LL. It was created by American developer Wandering Samurai Studios.
GameSpy Technology, a division of Glu Mobile, was the developer of the GameSpy Technology product, a suite of middleware tools, software, and services for use in the video game industry.
Роджер Вилко возвращается
Чем больше я смотрю на современные игры, тем больше убеждаюсь, что их постигает участь голливудского кинематографа — тонны спецэффектов и многомиллионные рекламные бюджеты заменяют сюжет, диалоги и персонажей. Прогресс видеокарт и процессорных мощностей только способствует этой печальной тенденции. Такое впечатление, что с изобретением 3D-ускорителей секрет написания хорошего сюжета и грамотной игровой системы был безвозвратно утерян. Вот и приходится доставать с пыльных полок шедевры прошлых лет, потому что сейчас такого уже не делают.
Один за другим в корчах издыхают былые гении компьютерного игростроения. Где сейчас, например, Sierra — фактический создатель жанра графических квестов? Затерялась в процессе поглощения одних медиа-гигантов другими. Где Sir-tech — создатель гениальных Wizardry и Jagged Alliance? Обанкротилась. Еще одна легенда игровой индустрии — Legend Entertainment, создатель единственных в своем роде квестов — тоже отдала богу душу после нескольких лет агонии в виде производства второсортных шутеров и аддонов к Unreal. New World Computing — родитель Might & Magic и Heroes of Might & Magic пошла с молотка, а главный дизайнер этих игр теперь делает очередной massive multiplayer для корейцев. Interplay закрывает создателей Fallout и других не менее гениальных игр Black Isle Studios.
Lucas Arts последовательно пристреливает продолжения двух своих лучших адвенчур — Full Throttle и Sam&Max — и полностью сосредотачивается на окучивании «Звездных войн». Ждем в магазинах Spaceballs: the Flamethrower — любимую игрушку учителя Йогурта. Куда катится мир и что делать, когда в нем творится такая фигня?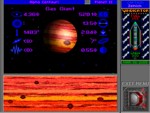 Как гласит народная мудрость: спасение утопающих — дело рук самих утопающих. Фанаты игр сами переделывают старые игры под новое «железо» и сами же пишут новые игры по мотивам старых. Отличный пример хорошего римейка классической и даже где-то местами культовой игры — Star Control 2. Вышедший в прошлом году римейк SC2 под названием The Ur-Quan Masters (sc2.sourceforge.net) расходился с SourceForge как горячие пирожки. Однако мне бы сейчас хотелось поговорить о старых игрушках уже упоминавшейся Sierra. А именно: о моем любимом сериале Space Quest. Sierra, как известно, выпустила в этой серии 6 игр. Первая вышла в 1986 году, последняя — в 1995. Бессменный герой всего сериала — космический мусорщик Роджер Вилко, спасающий галактику в перерывах между уборкой помещений на космических станциях. Эта серия, пожалуй, оказалась наиболее любима игроками, так что и фанатского творчества вокруг нее существует больше всего.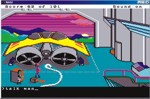 Уже вышли два вполне достойных фанатских продолжения — Space Quest: Replicated (wiw.org/
jess/replicated.html) и Space Quest: the Lost chapters (frostbytei.com/space). Обе эти игры, что интересно, полностью делались всего одним человеком. И тем не менее, получились вполне на уровне классики Sierra. Replicated выполнен на одном из самых старых движков Sierra — в разрешении 320×200 и 16-цветной (не битной, а именно цветной) графике а-ля SQ1 и 2. Управление, так же, как и в классике, из командной строки. Действие имеет место быть непосредственно перед первой частью, так что Replicated официально называется Space Quest 0. Игрушка получилась очень душевной — имеется вполне адекватный для SQ сюжет, изрядная доля юмора, грамотные логичные головоломки и совершенно замечательный финальный бой на ламповых мечах. В общем, Replicated проходится с удовольствием и на одном дыхании. К слову сказать, несмотря на жуткую для 2003 года EGA-графику, игру только за первый день после релиза скачали 12000 человек. Значит, жив еще интерес к хорошему квесту.
Теперь пару слов о Lost chapters. Эта игрушка может похвастаться более продвинутой графикой — настоящим VGA. Управление тоже из командной строки. Действие происходит между второй и третьей частью официального сериала. В целом, игрушка получилась послабее Replicated и настоящих SQ, но все же достаточно неплохой. Сюжет отличается здоровым идиотизмом, присущим всем SQ. А вот с реализацией получилось несколько слабовато — большое количество лишних локаций, неочевидные головоломки и повышенная смертность героя через пару часов начинают сильно раздражать.
Еще один многообещающий проект из серии Space Quest пока что находится в разработке, но, скорее всего, будет успешно завершен. Речь идет о неофициальном продолжении Space Quest 7, проживающем по адресу sq7.org. В отличие от двух вышеупомянутых игр, SQ7 делается целым коллективом разработчиков на собственном движке. Результат обещает быть интересным.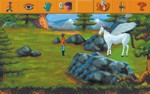 Что касается римейков SQ, то единственный живой проект на эту тему обитает по адресу sq3vga.by.ru и занимается переделкой Space Quest 3 под современную графику. Кстати, раз уж речь зашла о римейках, то нельзя не отметить контору под весьма говорящим названием Tierra (сейчас переименовалась в Anonymous Game Developers Interactive или, просто, AGDI). Контора проживает по адресу www.agdinteractive.com и занимается качественными римейками старых Sierra'овских квестов. AGDI уже выпустила две игры: King's Quest 1 и 2 — настоящую классику жанра. Ведь King's Quest была первой игрой в жанре графической адвенчуры и вообще именно с нее пошло само понятие «квест» в приложении к компьютерным играм.
Римейки у AGDI получились душевными — максимум, что можно выжать из VGA-графики, плюс полностью переделанная под современные возможности музыка и оцифрованные диалоги. Сюжет тоже до некоторой степени подвергся изменению — так что получились, скорее, даже не римейки, а игры по мотивам старых King's quest'ов. Интерфейс переделан под мышь в стиле более поздних игр Sierra. Конечно, командной строки несколько жаль, но и так неплохо получилось. Кстати, сейчас AGDI работает над аналогичной переделкой игры из другой популярной серии Sierra — Hero's Quest (он же Quest for Glory). А именно — QfG 2: trial by fire. Лично я с нетерпением жду, когда они ее закончат — игрушка была хороша сама по себе, и к тому же в этой серии Sierra весьма удачно включила в свои адвенчуры элементы RPG.

I recently had the opportunity to log some flight time in a Czech made L-39 Jet. Aurora based Gauntlet Warbirds is a provider of Aerobatic, tailwheel and jet training. I flew with their Owner and Chief Pilot on an L-39 Training flight. I published a full post about the experience MyFlightBlog.com, my blog dedicated to my experiences of learning to fly and being a Private Pilot.
Read my full review of the L-39 Flight Experience.
Palwaukee Airport Throwback T-Shirt
Roger Wilco Wear does its flying out of Chicago Executive Airport (KPWK), formerly known as Palwaukee Municipal Airport. So when we started this site the first shirt we designed was the throwback to our local airport, Palwaukee Airport.
We did some research and found out how little we knew about our home airport. The airport was originally founded in 1925 with the name of Gauthier's Flying Field. It was renamed Pal-Waukee in 1928 due to the airport's location near the intersection of Palatine Road and Milwaukee Avenue. The airport was privately owned up until 1986 when it was sold by the Priester family to the cities of Wheeling and Prospect Heights, at which point the name was slightly modified again to Palwaukee Municipal Airport, which is the version of the name we have selected for our t-shirt. In August of 2006 the airport when through its most recent identity change, selecting the name Chicago Executive Airport.
The airport caters heavily to general aviation and corporate traffic and is the fourth busiest airport in Illinois. Over 90% of the traffic is general aviation based which makes us happy.
The most interesting tidbit we learned about Palwaukee is its tie to the 10 litu' banknote of Lithuania. The currency, which is one of Lithuania's most widely circulated, features two Lithuanian pilots, Steponas Darius and Stasys Girenas. The two pilots, who had ties to Chicago and then-named Pal-Waukee airport, attempted to break Lindberg's non-stop distance record across the Atlantic with a flight from New York City to Kaunus, Lithuania. Unfortunately, the pilots did not succeed and were lost in a crash at Soldin, Germany. The pilots are honored on the 10 Litu Banknote. The image depicts Darius wearing a hat he was known to wear often that included a Pal-Waukee Airport Patch. You learn something new every day.
We currently offer two Palwaukee t-shirts; a short sleeve t-shirt for $27 and a long sleeve t-shirt for $30. We hope you will enjoy our Palwaukee Municipal Airport T-shirts that can be found in the online store.
You can now listen to Live ATC communication from Palwuakee / Chicago Executive Airport.
Westosha Airport T-Shirt
I recently developed a T-shirt for pilots that are based out of cozy Westosha Airport. Westosha is located just north of the Illinois border in Wilmot, Wisconsin. The airport bumps right up against a local ski hill Wilmot Ski Area, which makes for some fun sightseeing while flying during the winter months.
Last winter I had the opportunity to perform a few touch-n-go's at the Westosha Airport. Looked like a nice local airport. I know two fellow aviation bloggers that fly out of Westosha. Check out there blogs: PilotTimes and Eblo.
These two Westosha Airport T-Shirt designs are dedicated to Westosha Airport. They are available in our online store, the short sleeve t-shirt is $27 and the long sleeve t-shirt is $33.

New Garden Airport (N57) T-Shirt
With the holidays behind us we bring you the first Roger Wilco Wear Aviation T-Shirt of the Week. This week's t-shirt is dedicated to New Garden Airport (N57) also known as New Garden Flying Field. This single strip airport is just 20 miles southwest of Philadelphia in Toughkenamon, PA.
The airport is the home to the Colonial Flying Corps Museum which features a restored DeHavilland DH 82A Tiger Moth Biplane. The plane can seen flying at the annual Museum benefit air show each June.
Roger Wilco Wear offers an olive colored short sleeve t-shirt for New Garden Airport. Check it out in our online store today!
College Park Airport (KCGS) T-Shirt
College Park Airport just north of the Nation's Capitol is the oldest continuously operating airport in the world. Aviation operations began there in 1909 just six years after the Wright Brothers first flight. Wilbur Wright came to College Park Airport in 1909 to train military officers, preparing them to fly the government's first airplane. After training with Wilbur Wright Lieutenant Frederic Humphrey became the first military pilot to solo in a government airplane.
That was not the only first to take place at College Park Airport. The first Postal Airmail Service originated at College Park with service to Philadelphia and New York. As an airmail station the airport was given the airport identifier of CGS for ColleGe Station referring to the airmail station.
The airport is also home to the College Park Aviation Museum. Be sure to stop in and check it out if you visit College Park Airport.
Sadly, this small airport has seen declining traffic since the 9-11 attacks. It's proximity to the capitol has added great complexity and red tape to flying in and out of this airport. Roger Wilco Wear dedicates these t-shirts to this great airport.
We offer both a short sleeve t-shirt in olive($27) and a black long sleeve($33). On the back it refers to the airport by the nickname "Cradle of Aviation".

Save the Red Baron Squadron
I was disappointed to learn today that on December 3rd the Schwan Food Company decommissioned The Red Baron Pizza Squadron. The team flew the historic Stearman biplane and has thrilled airshow attendees for 28 years with their acrobatic act.
I have had the pleasure of seeing the Red Baron's fly at least five times at a variety of airshows. Last summer I had the opportunity to take a flight with the team.
The Squadron was made up of four great pilots whose love for flying was evident the moment I met them. They were as disappointed as I was that the weather prevented them from putting me through a full acrobatic flight. Though I still enjoyed my flight in the Stearman with this great flight team
The folks at AirShowBuzz.com are trying to get people to sign a petition to bring back the Red Baron Squadron. You can sign the petition here then Digg the story as well.
You can show your support for the the Save the Red Baron movement with this t-shirt. The red short sleeve t-shirt is available for $21.00.
Leadville Airport T-Shirt, Highest in North America
Last week, we featured the busiest General Aviation Airport in the United States, Van Nuys Airport. This week, we feature the highest airport in North America. Leadville Airport (AKA Lake County Airport) sits at an elevation of 9,927 feet. As pilots know, an airplane's performance is affected by altitude and deteriorates the higher you go. Leadville is a perfect place for high altitude flight training and for manufacturers to perform high altitude testing. Leadville has been a base for manufacturers and training programs for some time.
Flying in and out of Leadville can be a challenging endeavor even for experienced pilots. It is not just the adverse effects on the airplane's performance at such high altitudes, but also navigating mountain passes as Leadville has several peaks over 13,000 feet surrounding the airport.
According to Wikipedia, pilots that land at Leadville receive a certificate commemorating their landing at the highest airport in North America.
Roger Wilco Wear offers both a short sleeve and a long sleeve version of our Leadville Airport t-shirt. The design includes the airports designation as the highest in North America. Check it out in our online store today!
Leadville Airport photo by BillVietti (Flickr)
Custom Pilot License Celebration T-Shirt
Leonardo da Vinci said "When once you have tasted flight, you will forever walk the earth with your eyes turned skyward, for there you have been, and there you will always long to return." Every pilot knows this to be true. Celebrate earning your private pilots license with this custom t-shirt from Roger Wilco Wear.
The front of the T-Shirt says "General Aviation Pilot". Customize the back with your Airport Identifier to share with others where you learned to fly. Available in both short and long sleeve. Check out the shirts today.
Custom Solo Commemoration T-Shirt
There are few moments in life as rewarding as a pilot's first solo. Pilot and Blogger Av8rdan does a great job of expressing what it is like to take that first solo flight, "Non-flyers will never understand the wonderful sensation a new student pilot feels upon achieving lift for the very first time…SOLO! At that precise moment when your landing gear breaks free from the crust of this troubled planet, a pilot's soul begins to soar. And when your wings win their battle with gravity and the houses get smaller, it is then that we can proudly state that as members of a most elite family of licensed aviators, we are the luckiest SOBs on the face of the Earth"
Roger Wilco Wear has created designed a t-shirt to commemorate your solo achievement. Available in both short and long sleeve. Customize the back of the t-shirt to have the airport identifier for their airport where you flew your first solo. Check out the shirts today.
Congrats on the great achievement!

Van Nuys Airport (KVNY) T-Shirt
Van Nuys Airport is one of the most famous general aviation airports in the world. Located in Van Nuys, California in the San Fernando valley in Los Angeles this airport has often been the airport of choice for the stars including the early stars of Hollywood like Gene Autry, Cecil B. DeMille and Howard Hughes.
The airport has a rich history. It was opened on the 25th anniversary (December 17, 1928) of the Wright Brother's first flight. The airport was originally named Metropolitan Airport. According to the Van Nuys Airport website their were several record-breaking flights that were flown from the airport: A men's solo endurance record of 37 hours, by Herbert Fahy, in 1929; A women's endurance record of 42 hours, by Elinor Smith and Bobbi Trout, in 1929; A women's speed record of 196 mph, by Florence "Pancho" Barnes, in 1930.
According to wikipedia Van Nuys Airport is the world's busiest general aviation airport and 25th busiest airport in the world. The airport was celebrated in the 2005 documentary One Six Right.
Roger Wilco Wear has selected Van Nuys for the T-shirt of the week. We present to you two versions of the shirt a black long sleeve t-shirt ($33) and a slate short sleeve for $30. Both feature front and back designs with white font and a blue airport layout map. Check out the store to see these two new additions.
Roger Wilco Heathrow — Скачать mp3 бесплатно
Для вашего поискового запроса Roger Wilco Heathrow мы нашли 50 песен, соответствующие вашему запросу. Теперь мы рекомендуем загрузить первый результат Heathrow который загружен Roger Wilco Topic размером 5.92 MB, длительностью 4 мин и 30 сек и битрейтом 192 Kbps.
Обратите внимание:
Перед загрузкой вы можете послушать любую песню, наведите курсор и нажмите «Слушать» или «Скачать» для загрузки mp3-файла высокого качества. Первые результаты поиска — с YouTube, которые будут сначала преобразованы, после чего файлы можно загрузить, но результаты поиска из других источников могут быть сразу же загружены в MP3 без какого-либо преобразования.
Слушают сейчас
Roger Wilco Heathrow
Sia Quit Oficial Ft Ariana Grande
Kitoboy Кравц Пицца Пуэрториканка
Нервы Кофе Мой Друг Ai Mori
Natan Гусейн Гасанов Выбирай Adam Maniac Ft Alexei Shkurko Remix
Dio B1 Kampioen
Пародия На Контроллер Машиниста Номерного В Trainz
Модарам Дури Ту Мегардам Ибодат Мекунам
Sevinch Muminova Uzbekistan 2019 Love You
21 Day Meditation Challenge Day 05 The Rhythm Of Your Mind Body By
Hip Hop Head S First Time Hearing Twenty One Pilots Heavydirtysoul
Kill This Love Ranz And Niana X Natalia Blackpink Ranzandniana
Nuklear Pythius Whiplash
Komazaxo Bawer Bike Sebra Dilê Min باوه ر بكه سه برا دلئ من كوما زاخو
Герой Попов Туьунан Ырыа
Bratz Cloe From Mga Entertainment
Domla Xiyonat Xaqida
Mysterious City Of Strangers Original Mix
Вся Правда О Tiande
Боже Как Ты Бесишь Как Же Раздражаешь
كلمة الاستاذ احمد همام فى حفل تأبين الشيخ محمد السروى من مسجد النور
Genesis 1984 02 29 Live In Birmingham Uk Full Concert
Вторая Сборка Багов И Недоработок Overwatch Новая Карта
Fifa 16 Virtual Pro Lookalike Tutorial Martin Odegaard
Jan Jana Sevinch
Хотин Деманг Жоним Деб Айтинг
Кто Мы Друг Другу Звёзд Сияние Кавер
Heathens Meme Gacha Life
Скачивают
Mirror Mirror Feat Changbin Of Stray Kids
Dance Mithun Dance
Killstation Oxytoca Interpreted In American Sign Language
Эту Песню Ищут Все 2021 Сердце Разбил И Ушёл 2021
Михаил Алексеев Билинии Анна Бурнашева Тыл Мел
Inktale Undertale Au Tokyovania Control Nitro Remix
3 Часа Танцы Всю Ночь У Реки Два Берега Танцевальная Музыка Красивые Песни Wlv Music
Прикольно И Позитивно Поздравить Елену С Днем Рождения Поздравляю Леночка С Днюхой Тебя
Топ 10 Стратегии На Твой Android Ios 2020
Тик Ток Рома Гей
Inktale Undertale Au Tokyovania Nitro Remix Ink Sans Phase 3 Theme
Tokyovania Ink Sans S Megalovania
Enrasta Джованна Cover 2021 Ветер Завывает Диким Воем Облака Премьера 2021
Storyshift Bad Time Trio Phase 1 Hopes Knives And Glamour
Рома Гей Дима Лох Меме
Михаил Алексеев Ийэкээм
Hermit Eremita Jojo S Bizarre Adventure Golden Wind O S T Vol 2 Intermezzo
Как Нам Не Хватало На Двоих Одной Любви Полная Версия
Copyright ©Mp3crown.cc 2019
Все права защищены
На нашем музыкальном сайте вы можете бесплатно прослушать и скачать любимые, новые и популярные mp3 песни в хорошем качестве. Быстрый поиск любой композиции!