Apple представила macOS Mojave с тёмной темой
Apple представила macOS Mojave с тёмной темой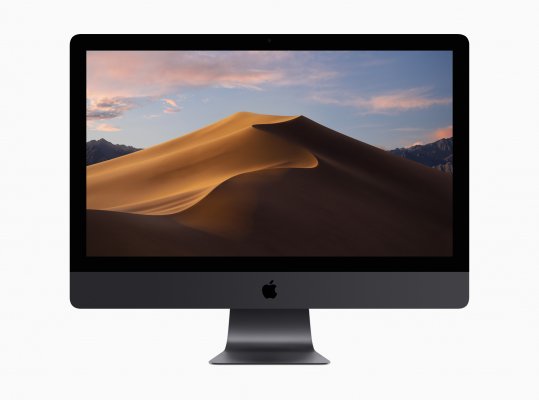 В рамках ежегодной конференции для разработчиков WWDC 2018 компания Apple представила следующую версию настольной операционной системы macOS — Mojave. В обновлении появятся новые удобные функции, а также ряд долгожданных нововведений, в том числе тёмный режим интерфейса и некоторые фирменные приложения из iOS.
Тёмный режим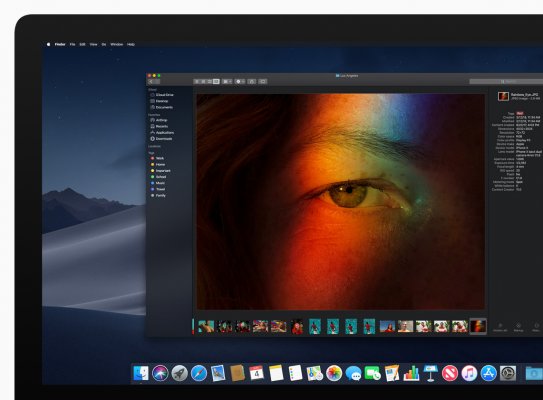 Одним из крупнейших визуальных нововведений в macOS Mojave станет поддержка тёмного режима интерфейса (Dark Mode) с динамическим рабочим столом. Функция будет автоматически активироваться в зависимости от времени суток, операционная система даже сама сменит обои на соответствующее изображение в тёмных тонах. По заявлениям Apple, тёмный режим позволит максимально фокусироваться на пользовательском контенте.
Тёмный режим будет поддерживаться не только в Finder, но и в основных приложениях для Mac — Mail, Messages, Maps, Calendar и Photos.
Упорядочивание файлов Stacks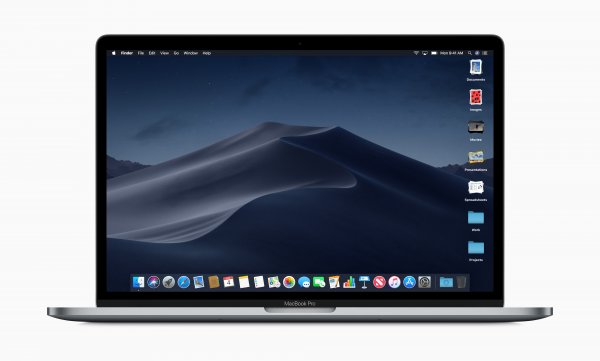 Помимо автоматической смены обоев, динамический рабочий стол в macOS Mojave решит проблему неорганизованности файлов и сможет упорядочивать их, складывая в так называемые стеки. Группировка файлов осуществляется на основе типа файла, пользователи также смогут сортировать документы используя другие атрибуты — например, дату создания и теги.
Новые приложения из iOS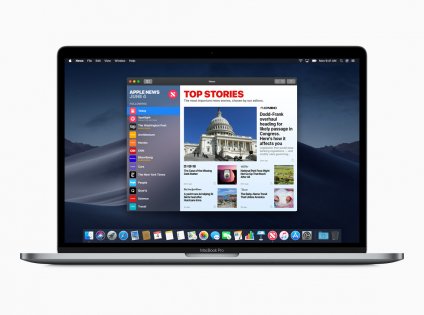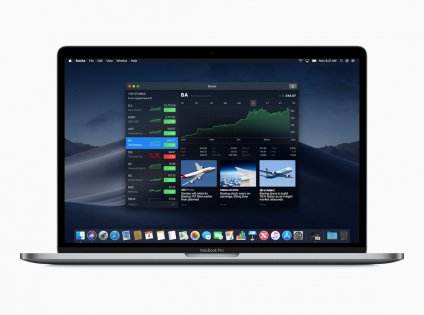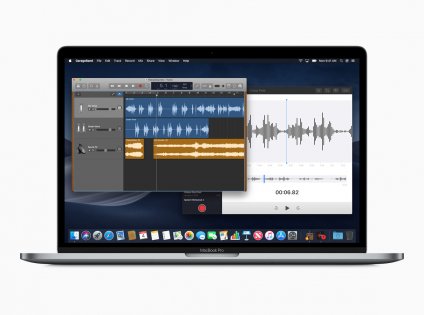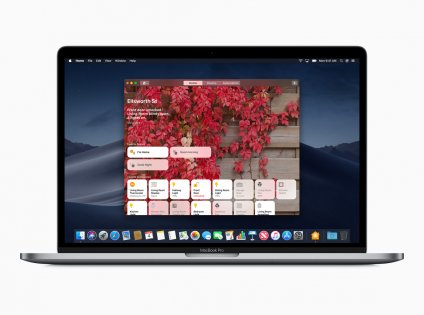 В macOS Mojave впервые появятся новые приложения из iOS — News, Stocks, Voice Memos и Home. Пользователи смогут следить за новостями и котировками акций в удобных приложениях, управлять устройствами умного дома HomeKit со своего компьютера Mac и легко записывать голосовые заметки. Все данные и внесенные изменения синхронизируются между iPhone, iPad и Mac, поэтому с ними можно работать с любого устройства.
Новый дизайн Mac App Store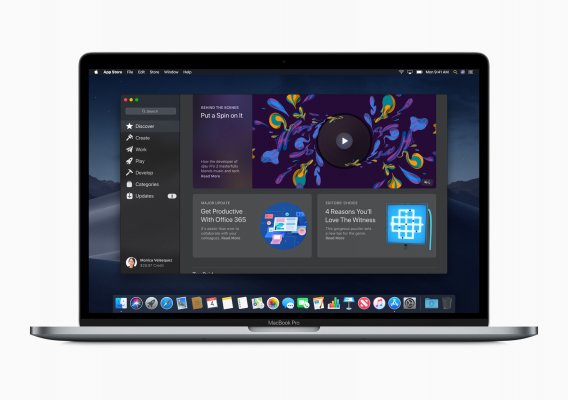 С момента своего запуска в 2011 году встроенный магазин приложений Mac App Store получит полный редизайн в обновлении Mojave. Новый интерфейс выполнен подобно App Store на iOS с акцентом на редакционные подборки контента (вкладка Discover, как на iPhone и iPad) и разделения на специальные категории (Create, Work, Play и Develop), которые помогут пользователям находить приложения для конкретного проекта или цели.
Приложения от ведущих разработчиков также скоро появятся в Mac App Store. На WWDC 2018 Apple объявила о скорой поддержке Office 365 от Microsoft и Lightroom CC от Adobe.
Групповые звонки FaceTime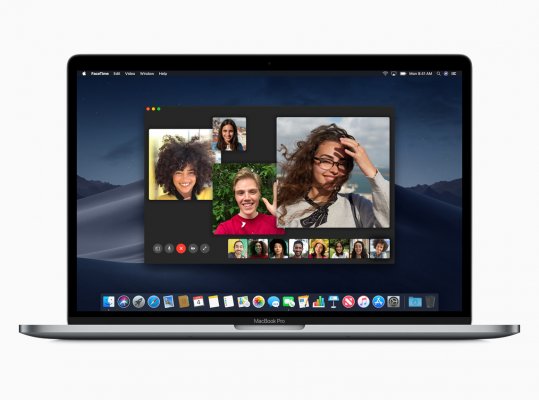 Аналогично iOS 12, в macOS Mojave пользователи получат возможность общаться одновременно с несколькими людьми (до 32 человек) благодаря групповым звонкам FaceTime. Участники могут быть добавлены в любое время или присоединиться позже, если разговор по-прежнему активен. Функция будет доступна как в видео-, так и в аудио-формате на Mac, iPhone, iPad и даже Apple Watch (в случае с часами — только голос, без видео).
Новые возможности Finder
Обновление macOS Mojave принесет новые возможности для системного файлового менеджера Finder. С помощью функции «Просмотр галереи» (Gallery View) пользователи смогут просматривать большие превью изображений для ускоренного поиска. Кроме того, Finder получит собственные быстрые действия (Quick Actions) для работы с файлами до их открытия (редактирование, обрезка, установка защиты паролем и другое) и отображение полных метаданных.
Другие нововведения
Другие запланированные нововведения для macOS Mojave включают обновленный редактор скриншотов, встроенный захват видео с экрана, функцию Continuity Camera для вставки фотографий с iPhone и iPad в документы, открытые на Mac, интеграцию инструментов редактирования контента в Finder и Quick Look и защиту от трекеров рекламных сетей в браузере Safari.
5 советов по переустановке macOS
Чтобы компьютер работал быстрее, я раз в год переустанавливаю macOS на чистую. Скучную работу хочется сделать побыстрее, поэтому я выработал определённый алгоритм. Если раньше на переустановку macOS уходил день, то сейчас — 2-3 часа без особых заморочек. Делюсь.
Влад Гороховский
Редактор. Пишу про софт и гаджеты, которые мне интересны. Делаю клавиатурный тренажер KeyKey для Mac.
Влад Гороховский
Я не люблю переустанавливать систему с нуля, уж слишком много времени занимает установка приложений и настройка Mac под мои нужды. Но раз в год, когда выходит обновление macOS, я выделяю часа 2-3 и ставлю систему на чистую. Благодаря этому мой MacBook 12 работает резвее, чем после установки обновления поверх. Увы, но в этом плане macOS уже давно похожа на Windows.
Скучную работу хочется сделать побыстрее, поэтому я выработал определённый алгоритм. Если раньше на переустановку macOS уходил день, то сейчас — 2-3 часа без особых заморочек. Делюсь.
1. Заранее качаю приложения и записываю на флешку
Большая часть моего софта куплена в магазинах App Store или Setapp. Но некоторые приложения приходится качать по отдельности: Dropbox, Alfred, Sketch, TextExpander, Chrome и ещё два десятка утилит.
Чтобы ничего не забыть, я просто прохожусь по списку установленных приложений и загружаю те, которых нет в App Store или Setapp.
Качать приложения на «старой» и настроенной системе быстрее и удобнее: браузер помнит пароли или уже авторизирован на нужные сайты и на это не нужно тратить время.
Эти приложения я загрузил заранее и сохранил на внешний диск
2. Делаю резервную копию настроек приложений
Есть приложения, которые требуют уйму времени для настройки под себя. В Alfred это «воркфлоу» и «сниппеты», в Hazel — правила сортировки файлов, в iStat Menus — настройки виджетов в Menubar.
Чтобы не тратить время на повторную настройку, конфигурации приложений лучше заранее сохранить. Такие файлы настроек я складываю в папку Backup в Dropbox. Вот так это происходит на примере четырёх приложений:
Alfred: в Settings Advanced ▸Set Sync Folder включите папку для синхронизации настроек, тем оформления и workflow;
TextExpander: в Настройки▸ Синхронизация укажите папку, где будут хранится сниппеты;
Hazel: экспортируйте все правила через Settings ▸ Export All Rules или задайте папку для автоматической синхронизации;
iStat Menus: все настройки можно сохранить через File ▸ Export Settings.
3. Делаю доступный бэкап на диск
Всегда есть шанс не сохранить важные файлы и затереть их при переустановке. В таком случае поможет резервная копия. Я пользуюсь Arq Backup — продвинутой альтернативой Time Machine. Каждый час Arq автоматически делает резервную копию диска в Dropbox.
Но облачное хранилище слишком задумчивое: в нем долго искать, из него долго качать большие файлы. Поэтому, перед переустановкой macOS, я делаю временную резервную копию на внешний USB-диск. В случае чего, восстановить файлы с USB-диска куда быстрее, чем из облака.
Локальный бэкап умеет делать тот же Arq, но и бесплатная Time Machine для этих целей тоже хороша. В любом случае бэкап займёт много времени, поэтому делайте его заранее ночью.
После переустановки я переписываю с USB-диска всю папку Dropbox. Это экономит время на синхронизацию и даёт доступ к заветной папке Backup, где хранятся предварительно сохранённые настройки приложений.
4. Делаю загрузочную флешку macOS
С загрузочной флешки устанавливать macOS быстрее, чем напрямую из сети. Её создание не требует особого участия и займёт минут двадцать.
5. Завариваю кофе и начинаю
Процедура стандартная. Загружаю Mac удерживая Option , выбираю установочную флешку, форматирую диск через Дисковую утилиту, ставлю систему.
How to Install macOS OS X Mojave 10.14 on PC Without Mac
DISCLAIMER: This guide is created for the educational purpose and shows that one can install macOS Mojave 10.14 or OSX on PC without Mac. This works for non-Apple hardware but Intel-based Windows laptops and PC. The guide explains how it's done. The process explained is a part of ethical hacking macOS for Non-Apple Windows and Linux desktops and Laptops. If you wish to remove the content (DMCA), please reach us via contact us page.
Let's learn how to Install macOS Mojave 10.14 on any Windows or Linux laptop or PC without Mac. This guide will help you install macOS X on PC running on the 7th and 8th Gen processors. The best thing about this macOS Mojave Installation guide is that we don't need a MacBook for this.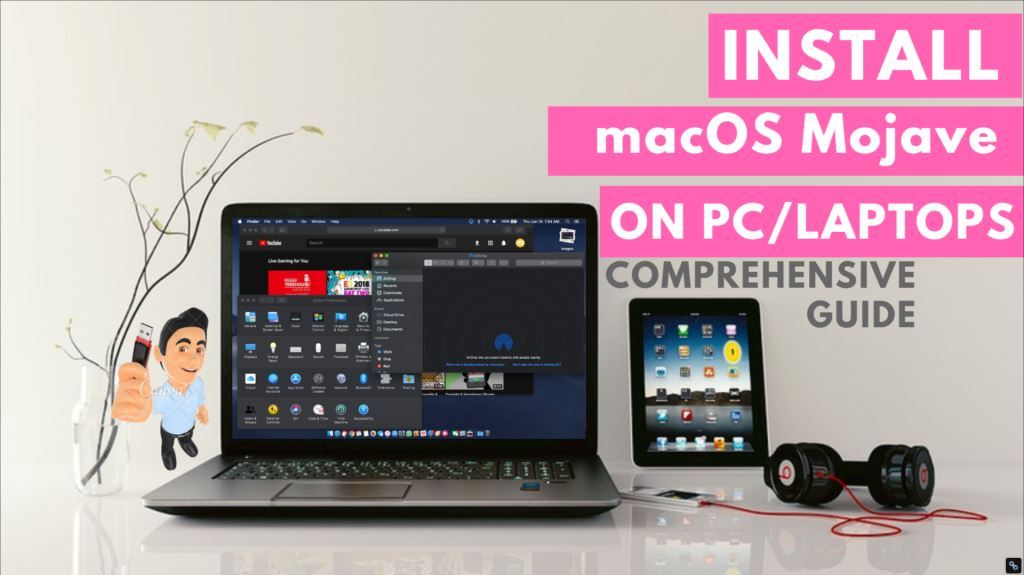 Thus, if you own a Windows Laptop powered by either Kaby Lake or Coffee Lake processors, proceed with this tutorial. If you own a system with older generation processors such as skylake and below, you can still use this guide but need to replace a few files in clover to install and run macOS Mojave on a Windows 10 laptop.
Further, if you want to install macOS High Sierra 10.13.6, follow this guide on how to install macOS 10.13.6 High Sierra on a Windows PC or Laptop without using a Macbook or macOS.
NOTE: This is the simplest and the easiest How-To guide on macOS Mojave installation on the internet with all the screenshot and video guides. However, currently, these videos are offline coz. Apple Inc. raised a copyright claim on our macOS MojaveInstallation video, and we got a strike on our YouTube channel. So we had to take down all macOS installation guides.
However, we will soon upload them to other platforms such as Vimeo and on our Facebook fan page. On TechPosts, we always try to create a video guide along with the post and you will find almost all posts with a video guide. And that's what makes us different.
How to Install macOS Mojave 10.14 on a Windows Laptop or PC
BEFORE YOU BEGIN…
Before you begin the installation, let me make myself very clear. I or TechPosts cannot be held responsible for any damage, whatsoever if anything happens to you or your system by following this guide. This is entirely for educational and learning purpose. So proceed with this guide at your own risk.
Steps to Install macOS Mojave10.14 On PC without Mac
We have prepared all the necessary files required for installation and tried making this guide more straightforward for better understanding. So all you have to is download, copy, and paste. In case you find it difficult, follow the process as shown in the embedded macOS Mojave installation video guide.
Step 1. Backup Drive and Data [Highly Important]
Backup the entire drive or all the critical data from the system before you begin installing macOS on the internal drive if you have dual storage, no problem. Just don't touch Windows OS drive.
However, we still highly recommend you to back up the internal drive data as we will be formatting the hard drive for macOS Mojave installation. Which means any data on the drive will be permanently lost. So be careful and create a backup to be on the safer side.
Step 2. Create a macOS Mojave Installer for PC
To create a macOS installation media, you need at least 8GB USB thumb drive. However, 16GB is recommended. And make sure it's USB 3.0 for quick installation.
Download the macOSMojave.dmg file which is around 5.6 GB
install TransMac app on your PC.
Connect USB Thumb drive to your PC and then run Transmac application as administrator.
Then right-click on the USB Thumb Drive and click Format for MacOS.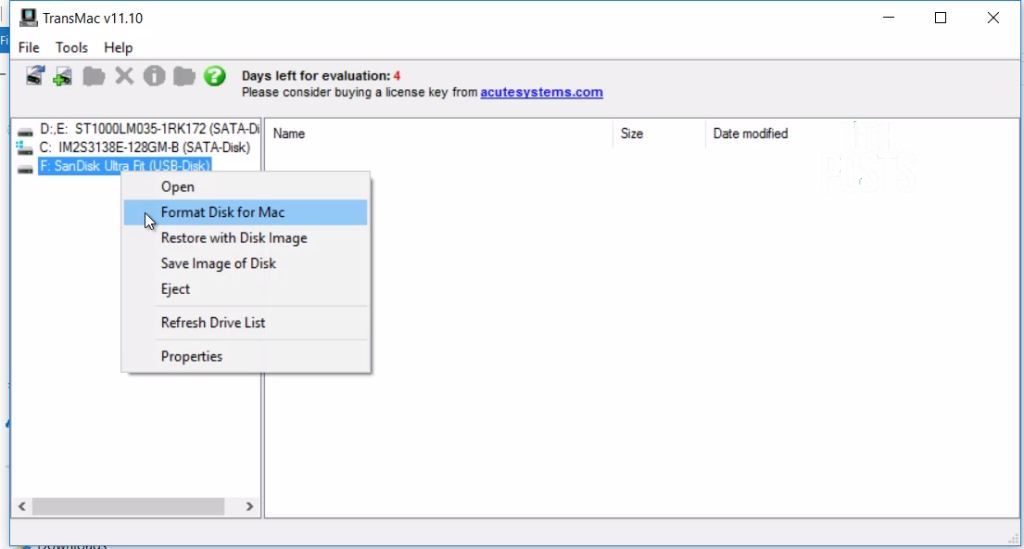 Right-click again on the USB drive but this time select Restore from Disc Image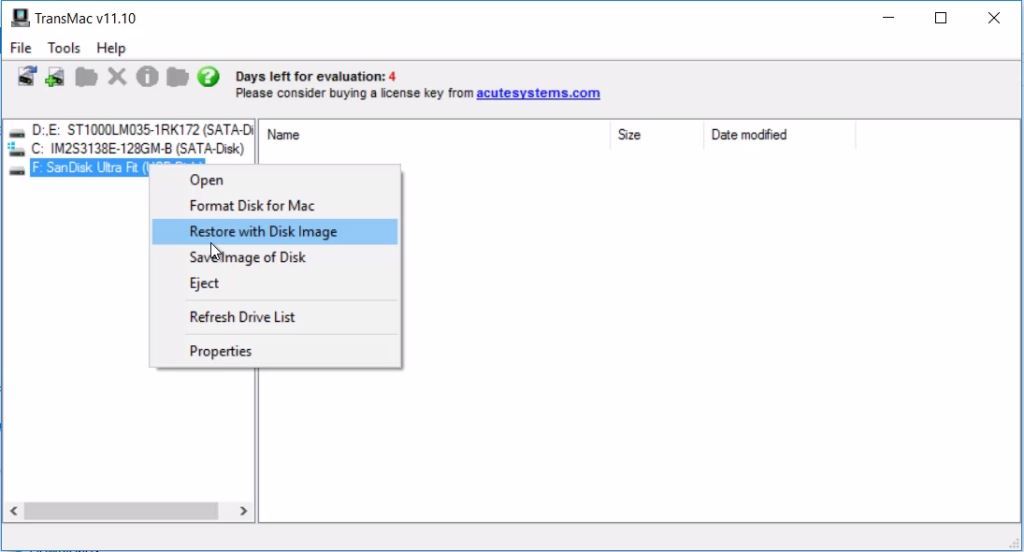 Now browse the MacOSMojave.dmg file you downloaded and select it
Click OK to proceed. Now, this can take a while depending on your system speed
Once it's finished, you can go to 'File Explorer' and then open the thumb drive partition
Inside the partition, you will see a few files and folders- delete everything. Don't format drive
Download the compressedEFI folderand then extract the CLOVER and BOOT folders to the USB Thumb drives EFI partition
Now that you have copied the EFI folder, shut down your system
Press the power button to turn on the PC and immediately start pressing BIOS key usually F2 as the system boots.
Then change the following settings:
Deactivate Secure Boot.
Under virtualization, disable VTD or VT for Direct I/O.
That's it. Now save changes and reboot your system.
As system reboots, press F12 continuously to see Boot options
From the boot options list, select your thumb drive containing macOS Mojave Installer as boot drive by using arrow keys and hitting the Enter key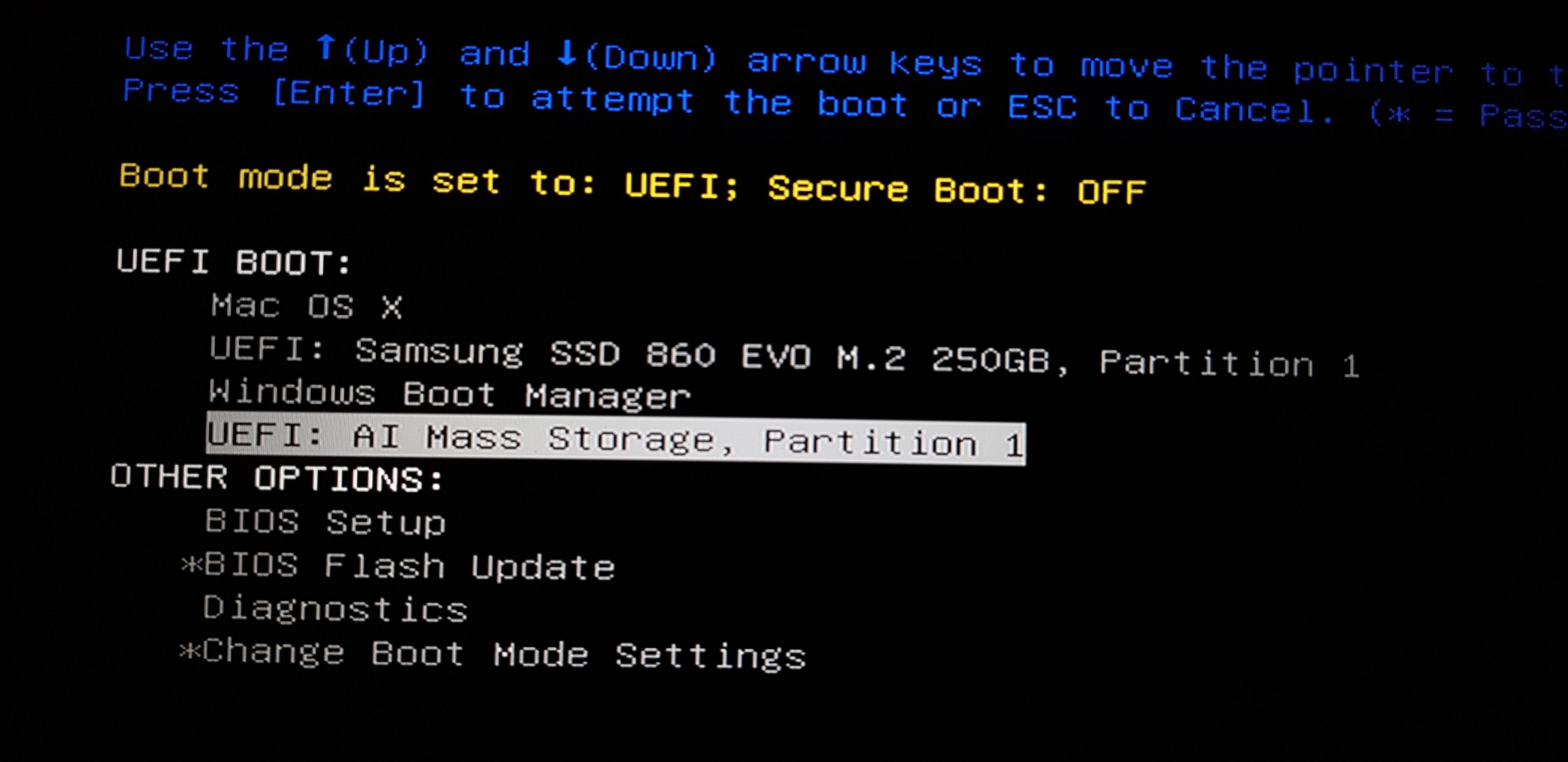 On boot, you will see this clover bootloader screen. From here, you need to select the disk that says 'Boot macOS Install from Install macOS Mojave'.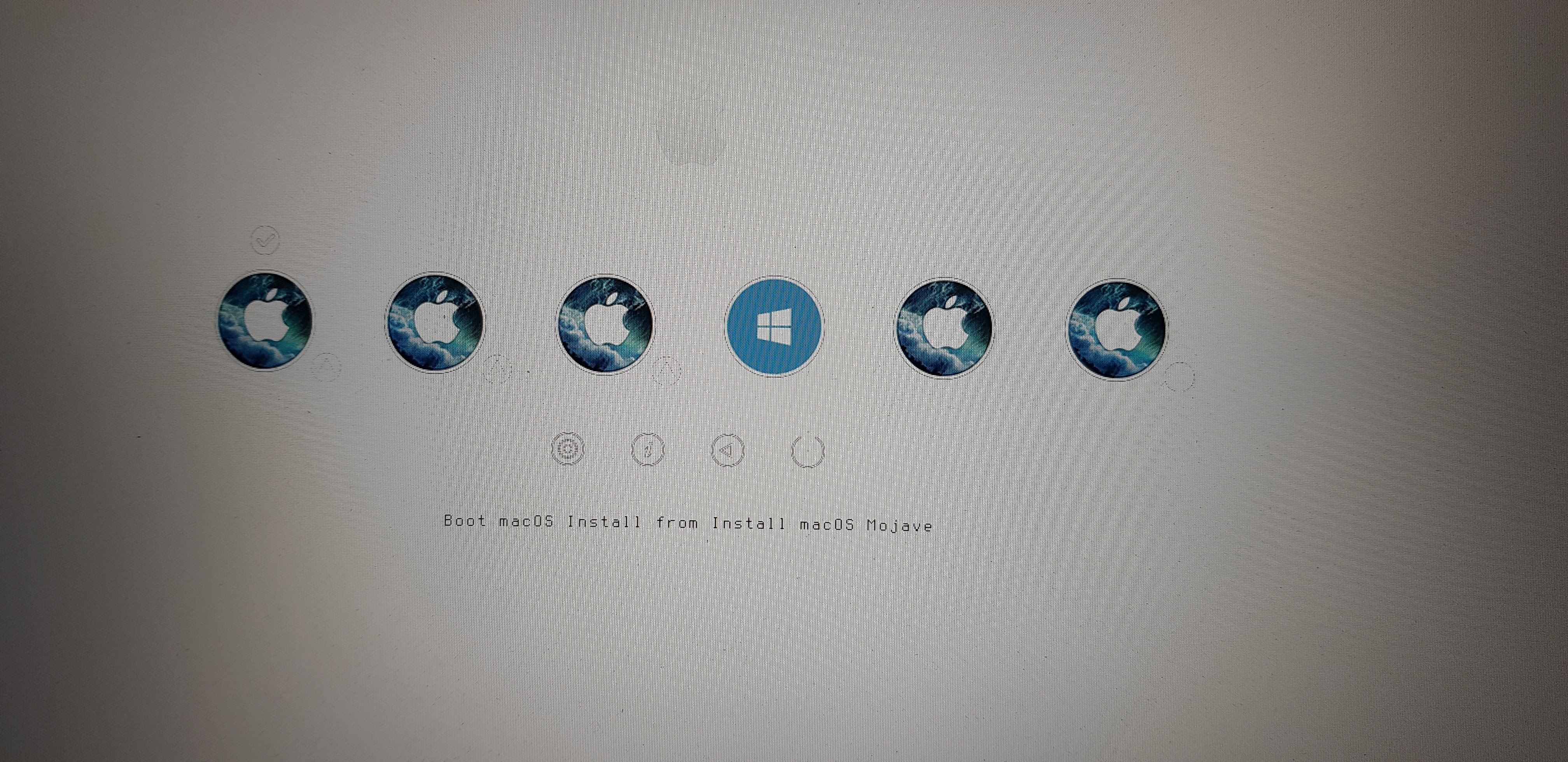 Step 3. Installing macOS Mojave 10.14
You will see the Apple logo, and it will start loading the installation file.
Now if you get any error here, I want you to please take a screenshot, upload it to the cloud and share the URL via comments or reach out to our Facebook fan page. Please mention system properties otherwise I will not be able to help you fix any error.
If everything is good, you will see the installation window.
Proceed to the next step by pressing the forward arrow button, and agree to all terms and conditions.
Next, open DiskUtility. Then choose the drive where you want the Mac OS to be installed
Make sure the volume or disk is empty as this will delete all data from the disk.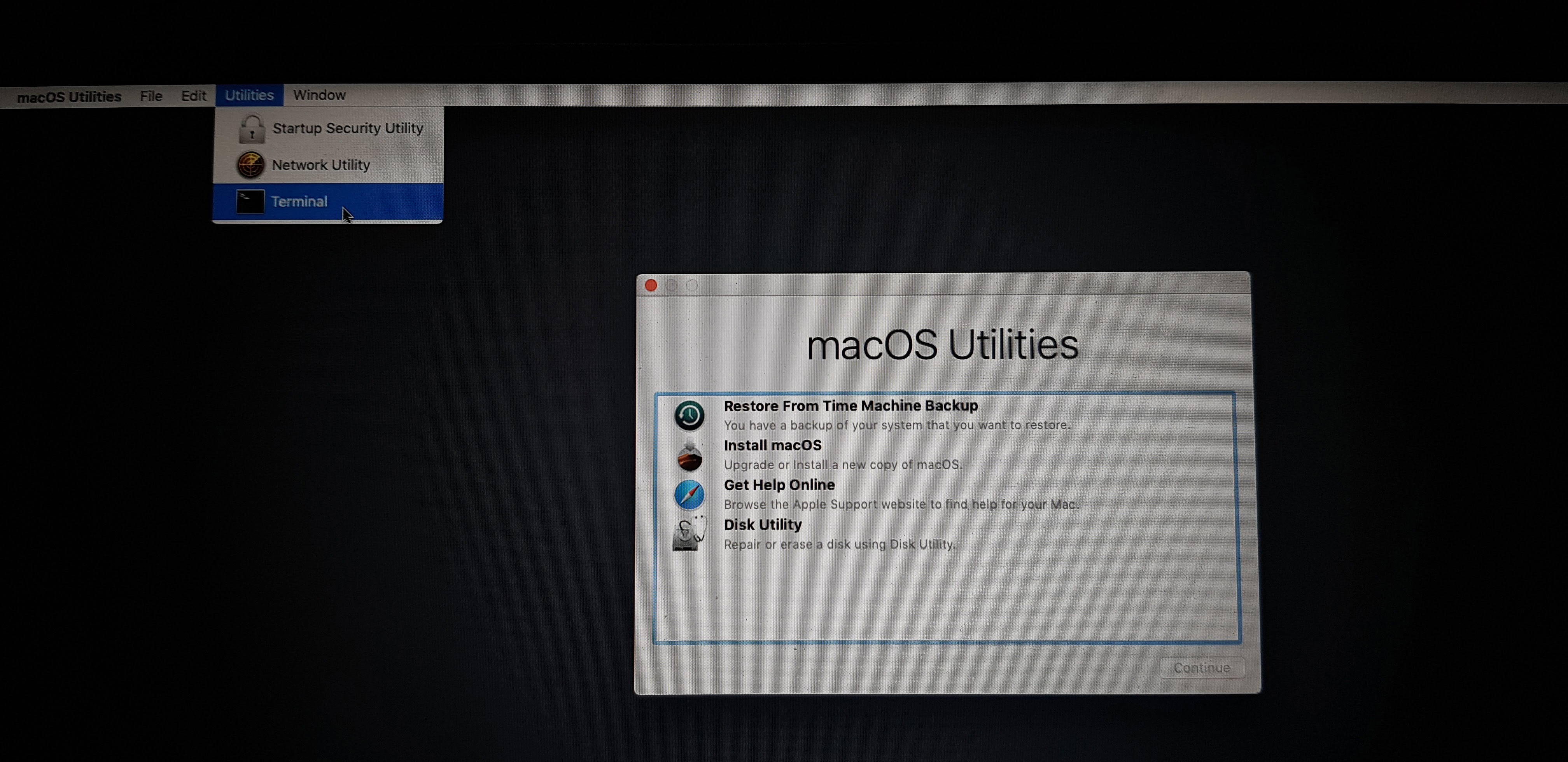 Select the disk and click Erase
Give a name to the drive such as macOS MojaveDisk, then choose Extended(Journaled) and GUID Partition from the respective dropdowns.
Hit erase, this will format the hard drive and make it ready for macOS Mojave Installation
After eraser, close the Disk Utility program and select the Install macOS.
Agree to terms, select the formatted drive and hit Install to begin the Mac OS Mojave installation on your Windows PC.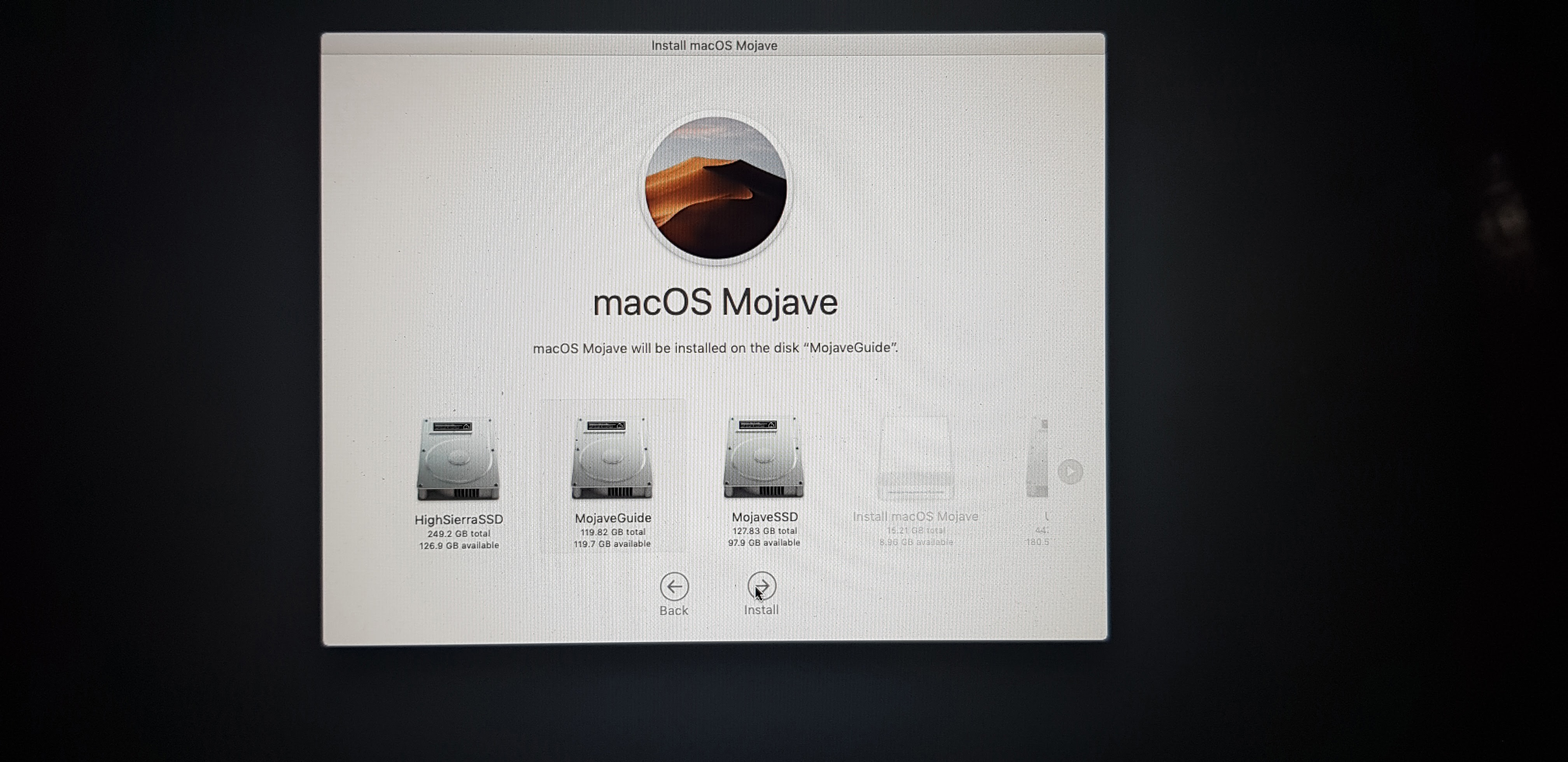 This may take 20-30 minutes, depending on your system and storage type (USB 3.0 or HDD/SSD).
SSD will be quicker than the traditional hard disk drives. Once the installation is finished, you will see a message that says,macOS could not be installed on your computer.
Just ignore this message as macOS Mojave is successfully installed on your system. This is an error message. So ignore it and click on Restart.
Again press F12 system restarts to choose USB thumb drive from the boot options
Then in clover bootloader, select Boot from macOS Mojave Disk.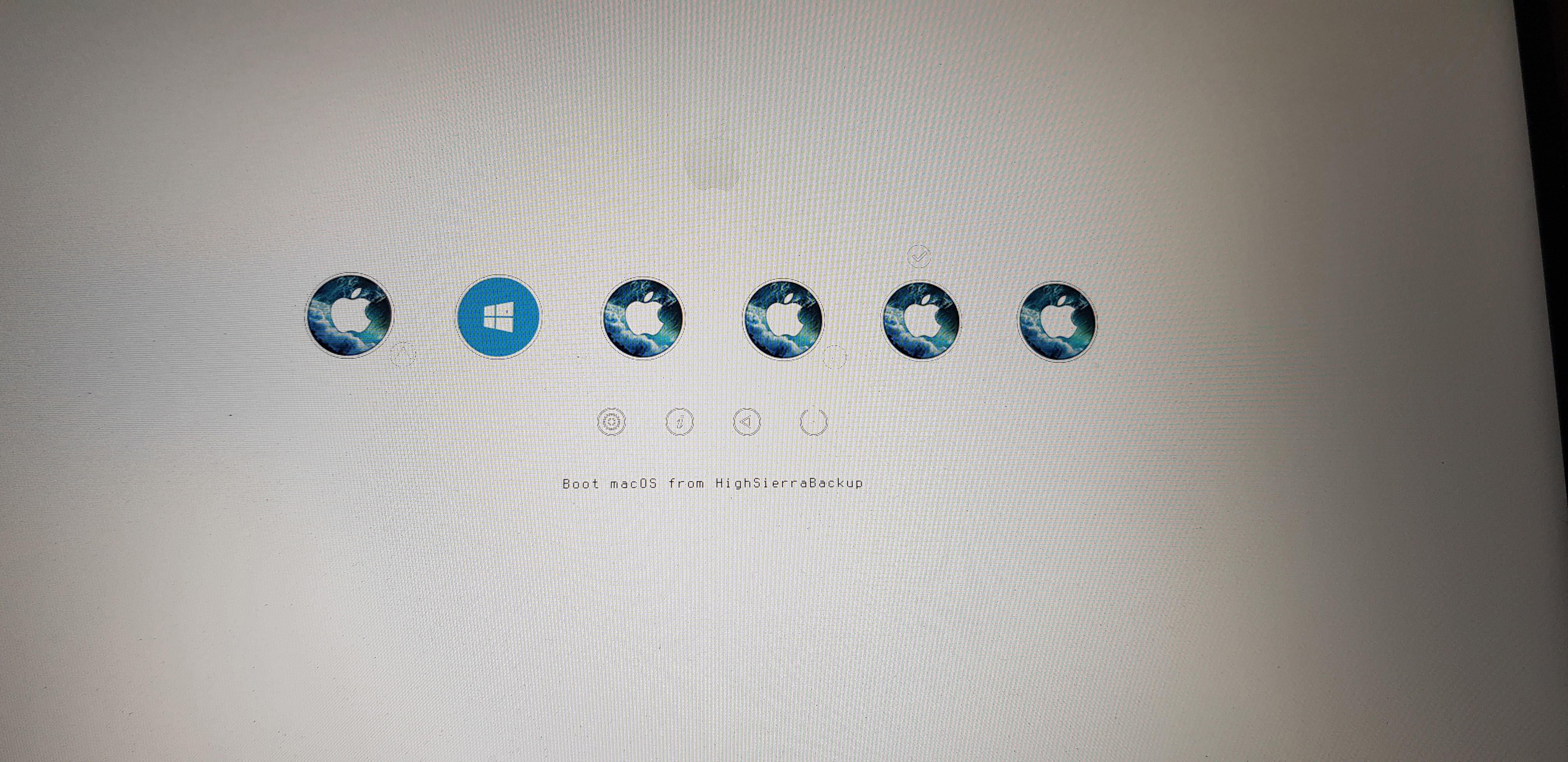 This will boot the MacOS Mojave from the disk where we installed it. This may take a while and once it boots up. Do the initial setup like Choose Region, Timezone, Agree to terms etc.
Then choose an account name and enter a password.
That's it, finally select between Light and Dark mode and your system is ready to use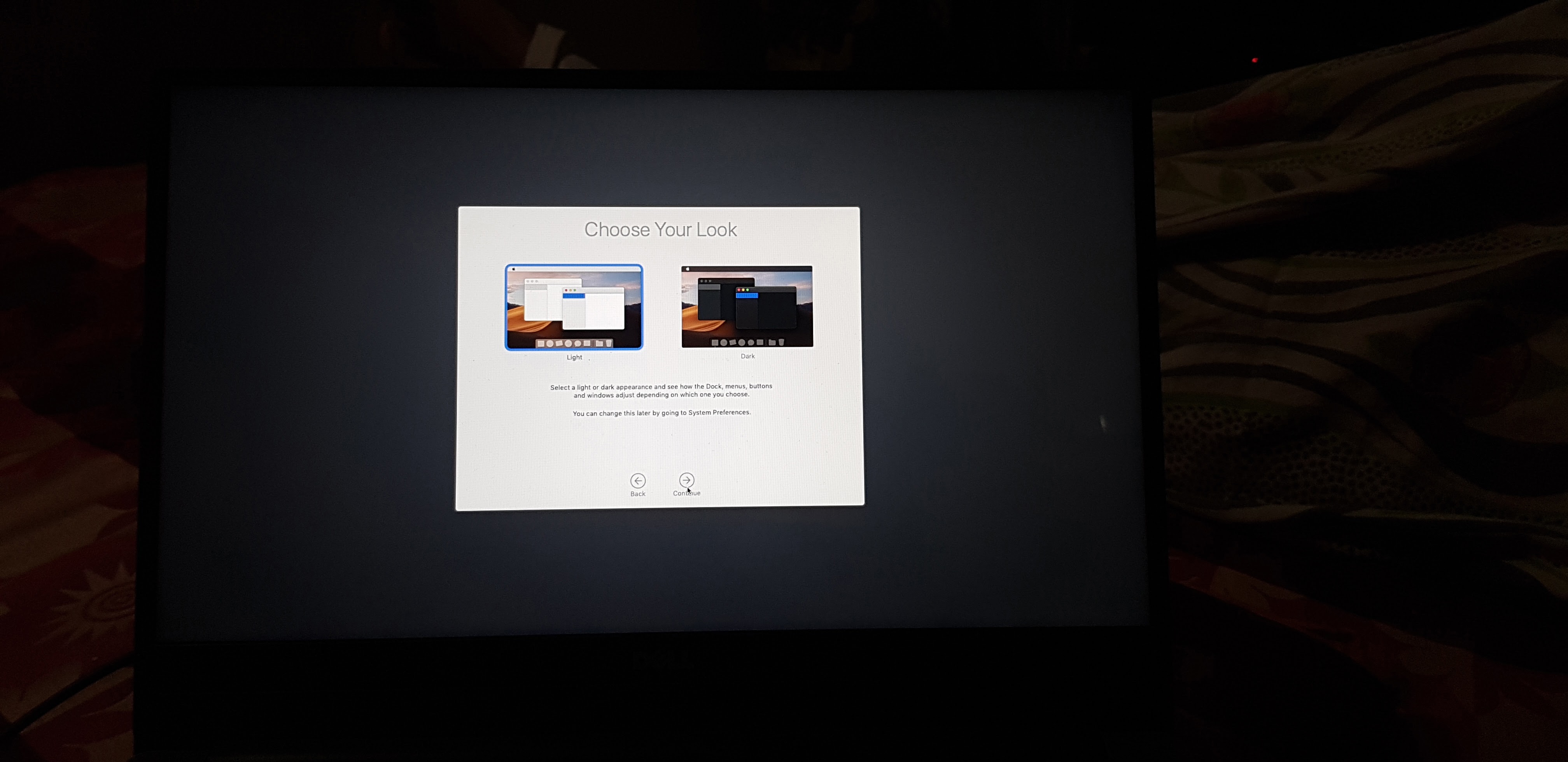 So now that you have successfully installed the latest macOS Mojave 10.14 on your Kaby Lake laptop or PC, check which hardware is working and what's not.
To check this, click 'Apple icon at the top left and click About System
Click the System Info tab and check what all hardware is detected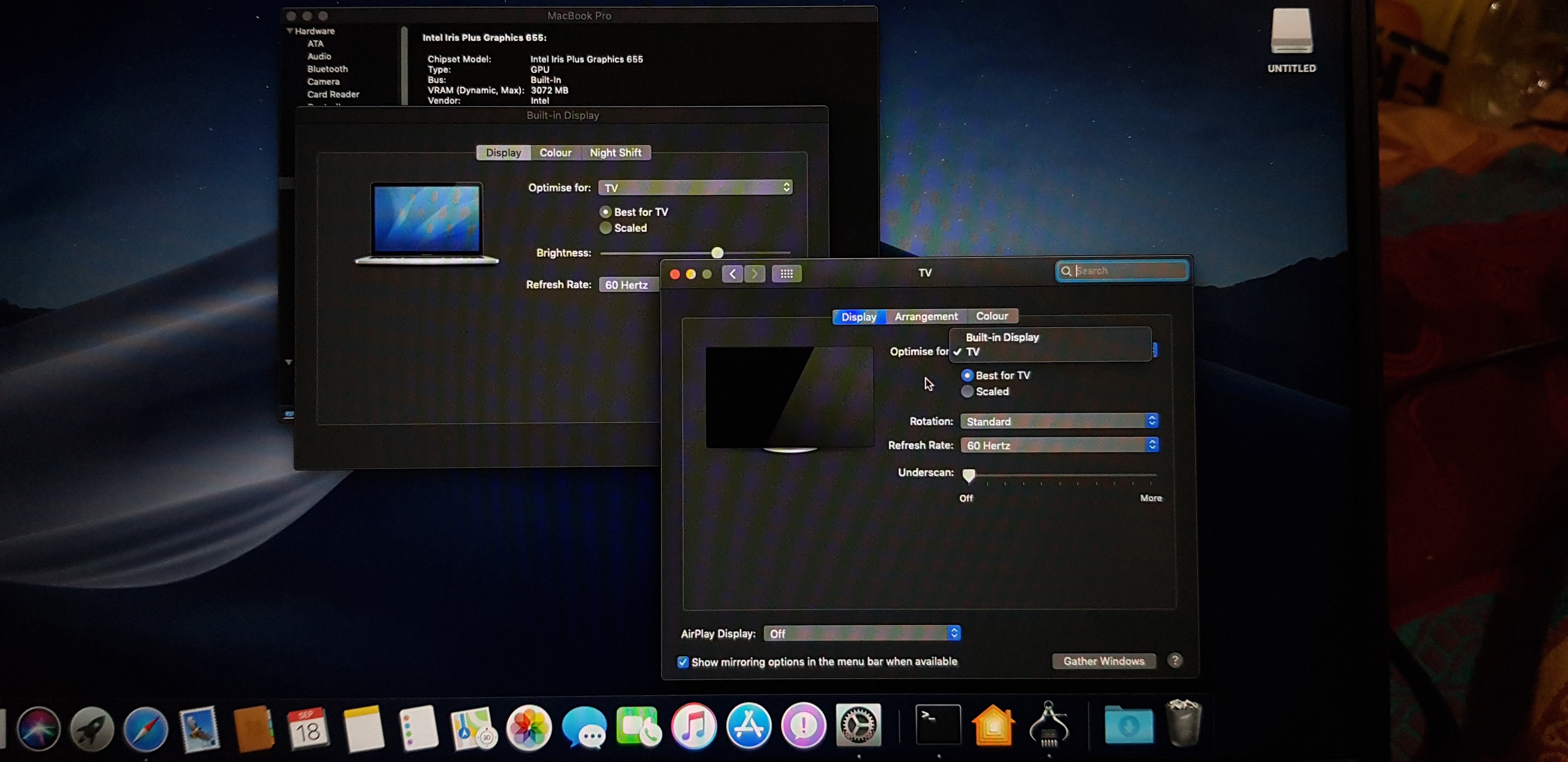 Comment down below what's working and what's not so that I can help you fix what's not working in your macOS Mojave Windows PC.
CONCLUSION
Now at this point, you should have successfully installed the macOS Mojave on PC without using Mac. This works for all Windows Laptops and PC powered by 7th and 8th Generation Kaby Lake and Coffee Lake processors.
Again, if you get any error, share with me via comment section down below. I will try to answer each and every one. But if everything works fine, share the system configuration, EFI folder (if you have modified) to help other enthusiasts.
Please stay tuned for more such guides. Subscribe to our newsletter and YouTube channel for instant updates.
macOS Mojave
macOS Mojave ( / m oʊ ˈ h ɑː v i , m ə -/ mo- HAH -vee; version 10.14) is the fifteenth major release of macOS, Apple Inc.'s desktop operating system for Macintosh computers. Mojave was announced at Apple's Worldwide Developers Conference on June 4, 2018, and was released to the public on September 24, 2018. The operating system's name refers to the Mojave Desert and is part of a series of California-themed names that began with OS X Mavericks. [3] It succeeded macOS High Sierra and was followed by macOS Catalina.
macOS Mojave brings several iOS apps to the desktop operating system, including Apple News, Voice Memos, and Home. It also includes a much more comprehensive «dark mode», is the final version of macOS to support 32-bit application software, [4] [5] and is also the last version of macOS to support the iPhoto app, which had already been superseded in OS X Yosemite (10.10) by the newer Photos app.
Mojave was well received and was supplemented by point releases after launch.
Contents
Overview [ edit ]
macOS Mojave was announced on June 4, 2018, at Apple's annual Worldwide Developers Conference in San Jose, California. [1] [6] [7] Apple pitched Mojave, named after the California desert, as adding «pro» features that would benefit all users. The developer preview of the operating system was released for developers the same day, [7] followed by a public beta on June 26. [8] The retail version of 10.14 was released on September 24. [9] It was followed by several point updates and supplemental updates.
System requirements [ edit ]
Mojave requires a GPU that supports Metal, and the list of compatible systems is more restrictive than the previous version, macOS High Sierra. [10] Compatible models are the following Macintosh computers running OS X Mountain Lion or later: [11]
: Early 2015 or newer : Mid 2012 or newer : Mid 2012 or newer, Retina display not needed : Late 2012 or newer : Late 2012 or newer : Late 2017 : Late 2013 or newer; Mid 2010 or Mid 2012 models require a Metal-capable GPU[12]
macOS Mojave requires at least 2   GB of RAM as well as 12.5   GB of available disk space to upgrade from OS X El Capitan, macOS Sierra, or macOS High Sierra, or 18.5   GB of disk space to upgrade from OS X Yosemite and earlier releases. Some features are not available on all compatible models. [13]
Changes [ edit ]
System updates [ edit ]
macOS Mojave deprecates support for several legacy features of the OS. The graphics frameworks OpenGL and OpenCL are still supported by the operating system, but will no longer be maintained; developers are encouraged to use Apple's Metal library instead. [14]
OpenGL is a cross-platform graphics framework designed to support a wide range of processors. Apple chose OpenGL in the late 1990s to build support for software graphics rendering into the Mac, after abandoning QuickDraw 3D. At the time, moving to OpenGL allowed Apple to take advantage of existing libraries that enabled hardware acceleration on a variety of different GPUs. As time went on, Apple has shifted its efforts towards building its hardware platforms for mobile and desktop use. Metal makes use of the homogenized hardware by abandoning the abstraction layer and running on the «bare metal». Metal reduces CPU load, shifting more tasks to the GPU. It reduces driver overhead and improves multithreading, allowing every CPU thread to send commands to the GPU. [15]
macOS does not natively support Vulkan, the Khronos group's official successor to OpenGL. The MoltenVK library can be used as a bridge, translating most of the Vulkan 1.0 API into the Metal API. [16] [17]
Continuing the process started in macOS High Sierra (10.13), which issued warnings about compatibility with 32-bit applications, Mojave issues warnings when opening 32-bit apps that they will not be supported in future updates. In macOS Mojave 10.14, this alert appears once every 30 days when launching the app, as macOS 10.15 will not support 32-bit applications. [5]
When Mojave is installed, it will convert solid-state drives (SSDs), hard disk drives (HDDs), and Fusion Drives, from HFS Plus to APFS. On Fusion Drives using APFS, files will be moved to the SSD based on the file's frequency of use and its SSD performance profile. APFS will also store all metadata for a Fusion Drive's file system on the SSD. [18]
New data protections require applications to get permission from the user before using the Mac camera and microphone or accessing system data like user Mail history and Messages database. [19]
Removed features [ edit ]
Mojave removes integration with Facebook, Twitter, Vimeo, and Flickr, which was added in OS X Mountain Lion. [20]
The only supported Nvidia graphics cards are the Quadro K5000 and GeForce GTX 680 Mac Edition. [21] [22]
Applications [ edit ]
Mojave features changes to existing applications as well as new ones. Finder now has metadata preview accessed via View > Show Preview, and many other updates, [23] including a Gallery View (replacing Cover Flow) that lets users browse through files visually. [24] After a screenshot is taken, as with iOS, the image appears in the corner of the display. The screenshot software can now record video, choose where to save files, and be opened via ⇧ Shift + ⌘ Command + 5 . [25]
Safari's Tracking Prevention features now prevent social media «Like» or «Share» buttons and comment widgets from tracking users without permission. The browser also sends less information to web servers about the user's system, reducing the chance of being tracked based on system configuration. [26] It can also automatically create, autofill, and store strong passwords when users create new online accounts; it also flags reused passwords so users can change them. [27]
A new Screenshot app was added to macOS Mojave to replace the Grab app. Screenshot can capture a selected area, window or the entire screen as well as screen record a selected area or the entire display. The Screenshot app is located in the /Applications/Utilities/ folder, as was the Grab app. Screenshot can also be accessed by pressing ⇧ Shift + ⌘ Command + 3 .
FaceTime [ edit ]
macOS 10.14.1, released on October 30, 2018, adds Group FaceTime, which lets users chat with up to 32 people at the same time, using video or audio from an iPhone, iPad or Mac, or audio from Apple Watch. Participants can join in mid-conversation. [28]
App Store [ edit ]
The Mac App Store was rewritten from the ground up and features a new interface and editorial content, similar to the iOS App Store. A new 'Discover' tab highlights new and updated apps; Create, Work, Play and Develop tabs help users find apps for a specific project or purpose. [29]
iOS apps ported to macOS [ edit ]
Four new apps (News, Stocks, Voice Memos and Home) are ported to macOS Mojave from iOS, with Apple implementing a subset of UIKit on the desktop OS. [30] Third-party developers would be able to port iOS applications to macOS in 2019. [31]
With Home, Mac users can control their HomeKit-enabled accessories to do things like turn lights off and on or adjust thermostat settings. Voice Memos lets users record audio (e.g., personal notes, lectures, meetings, interviews, or song ideas), and access them from iPhone, iPad or Mac. Stocks delivers curated market news alongside a personalized watchlist, with quotes and charts. [32]
Other applications found on macOS 10.14 Mojave [ edit ]
(installer)
AirPort Utility
Archive Utility
Audio MIDI Setup
Automator
Bluetooth File Exchange
Chess
ColorSync Utility
Console (may not be pre-installed) (still might be pre-installed) (may not be pre-installed)
Image Capture
Ink (can only be accessed by connecting a graphics tablet into your Mac) (may not be pre-installed) , version 4.6 (may not be pre-installed) (may not be pre-installed)
Screenshot (succeeded Grab since Mojave or Catalina) (may not be pre-installed)
User interface [ edit ]
Dark mode and accent colors [ edit ]
Mojave introduces «Dark Mode», a Light-on-dark color scheme that darkens the user interface to make content stand out while the interface recedes. [33] Users can choose dark or light mode when installing Mojave, or any time thereafter from System Preferences. [34]
Apple's built-in apps support Dark Mode. [34] App developers can implement Dark mode in their apps via a public API. [35]
A limited dark mode that affected only the Dock, menu bar, and drop-down menus was previously introduced in OS X Yosemite. [4]
Desktop [ edit ]
Stacks, a feature introduced in Mac OS X Leopard, now lets users group desktop files into groups based on file attributes such as file kind, date last opened, date modified, date created, name and tags. [24] [25] This is accessed via View > Use Stacks. [23]
macOS Mojave features a new Dynamic Desktop that automatically changes specially made desktop backgrounds (two of which are included) [36] to match the time of day. [37]
Dock [ edit ]
The Dock has a space for recently used apps that have not previously been added to the Dock. [23]
Preferences [ edit ]
macOS update functionality has been moved back to System Preferences from the Mac App Store. [23] [38] In OS X Mountain Lion (10.8), system and app updates moved to the App Store from Software Update. [39]
Reception [ edit ]
Mojave was generally well received by technology journalists and the press. The Verge ' s Jacob Kastrenakes considered Mojave a relatively minor update, [40] but Kastrenakes and Jason Snell thought the release hinted at the future direction of macOS. [41] In contrast, Ars Technica ' s Andrew Cunningham felt that «Mojave feels, if not totally transformative, at least more consequential than the last few macOS releases have felt.» Cunningham highlighted productivity improvements and continued work on macOS's foundation. [42]
TechCrunch's Brian Heater dubbed Mojave «arguably the most focused macOS release in recent memory», playing an important role in reassuring professional users that it was still committed to them. [43]
Mojave's new features were generally praised. Critics welcomed the addition of Dark Mode. [44] [45] [34] [46]